8 Reasons You Are Not Getting More Sales
This is my current top 8 for 2016. This list is based on my consulting work with businesses that are either stuck or in reverse.
1
You do not have a person who is accountable for results. This could be you.
2
You lack a well designed consistent sales process.
3
Your prospecting sucks if you are doing any at all.
4
Your marketing is ad-hoc, not focused and lacks process.
5
Your company seems hard to deal with.
6
You never ask for the business.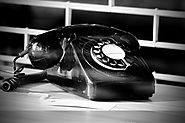 7
You never ask for referrals.
8
You sell rather than serve.